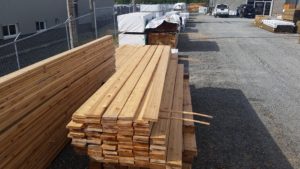 We sell Cedar Lumber!  Western red and yellow cedar in many dimensions and lengths.  Locally sourced for best sustainability.
Western Red Cedar
Western Red Cedar is one of the lightest weight woods and dries with minimal shrinkage. It is durable in all weather and highly resistant to decay. Red Cedar takes stains well and can be sanded to an exceptionally smooth finish. It is more resistant to warping than Yellow cedar and as the wood is non-resinous it accepts glue well. A versatile wood, our Red Cedar lumber is an appealing choice and can be used in a wide variety of projects.
Western Red Cedar 1×2,4,6,8,10,12
Western Red Cedar 2×2,4,6,8,10,12
Western Red Cedar 4×4 6×6 8×8
Western Red Cedar 5/4 Decking
Yellow Cedar
Yellow Cedar is only found on the Pacific Coast of North America, and is especially vigorous in coastal British Columbia, making it a truly Canadian option. It is an especially strong and durable wood, making it ideal for a wide variety of applications, including decking, planters, and even shingles. This clear yellow lumber is an attractive and versatile wood, and its natural oils make it especially resistant to decay and create that wonderful cedar scent!