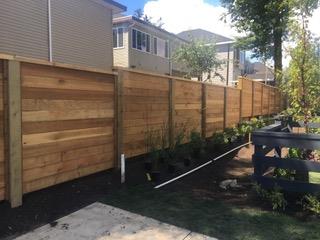 Thinking of a new fence?  Look no further for quality Cedar Fence Installations!
Our sister company Eagle Fencing Limited has the longest standard warranty than any competitor. Our service is  "A Grade  Above."  Our premium fence panels feature a 2×6 pressure treated kick board and 3/4″ tongue and groove panels.

Cedar Fence Installation
Our Cedar Fence installers are among the rarest in the province. Our installation team knows what they're doing;  they removed and installed a record of 450 feet of fencing in a single day! Whether you require general pre-fabricated panels or the most elaborate architecturally designed fencing, they have the know how to get any job done right. Backed by our 2-year Limited Warranty, you have the peace of mind that everything will be done right the first time.
Outdoor Wooden Deck Installation
Eagle Cedar works directly with Eagle Fencing to select decking specialists for their installation expertise. They are happy to work with our customers to ensure their project comes together perfectly. Need a plain step outside, under the over hang of your house or a full yard length deck for entertaining? We ensure the highest quality and design so you and your guests will be impressed. Let us create something special for your property! We want to brig out the best in your space that goes beyond the ordinary because we want you to have the yard of your dreams.
Staining Services
Our staining team has the knowledge and expertise to flawlessly add some colour to your project. Whether it's an oil-based stain or a solid custom selected paint. Representative will advise you on which would look most appealing as well as the pros and cons of your selection. All of the staining is done in our state of the art, indoor pre-staining warehouse is specifically designed for the job. As a result it leaves your material weatherproofed before it even reaches your door. The most popular and recommended choice of stain would be Superdeck's 1901 cedar clear coat. We advise this because it is most manageable choice; it is easy maintained and has the fasted application time. We strongly suggest getting your fence Pre-Stained by our team before getting an install because it increases the life of your fence and extends our Limited Warranty by an extra year!